I am a die hard shopper, I can't help myself. Nor can I blame being a blogger, as this infatuation with clothes has been long endured. The problem I face is closet space. NYC is a great place to live however, many New Yorkers know the perils of apartment living-space. This is without a doubt, the number one issue I have with being a city dweller. As a potential solution I'm reviewing this ingenious clothing rental service called Gwynnie Bee.
For those of you new to the brand-Gwynnie Bee is a monthly subscription clothing rental service for size 10-32. You pay a flat monthly fee and get an endless, rotating wardrobe with unlimited exchanges and free shipping-BOTH ways! The greatest feature for me when it comes to
Gwynnie Bee
is after I'm done wearing a piece, I can send it back-totally eliminating the need for storage space without sacrificing style nor my urge to shop (
btw, if you love it, there's an option to buy it!
). Whether you can relate to my qualms about decent closet space, or love the idea of always having new pieces to add to your current wardrobe,
Gwynnie Bee
is a great option.
I received my first package with 5 pieces of clothing in it and I'm sharing with you all the first two pieces I broke out–these Modamix shorts and BB Dakota dress.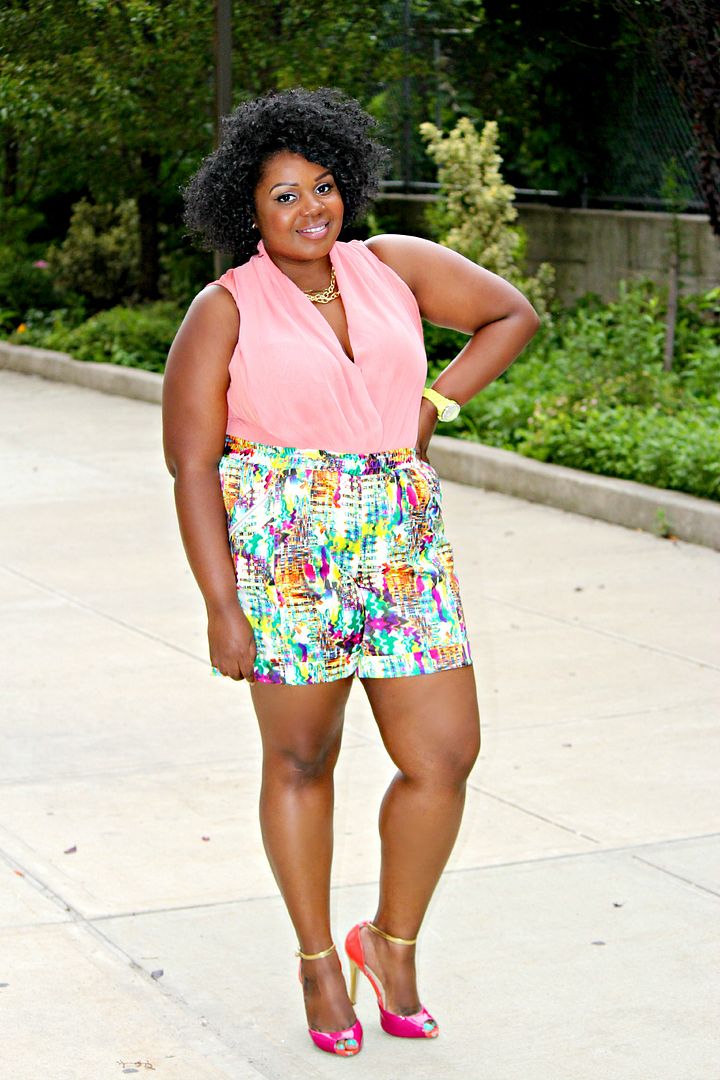 Wearing a Size 14
Cute right? Whether you're a shorts gal or not, let's face it, on super hot days, besides walking around naked, shorts is your best bet. I styled mine with a coral chiffon bodysuit and heels to dress it up a bit. However, it'll look equally cute in flat sandals and a tank.
I love this dress and thinking about buying it. The only con is that the arm holes are pretty low which means I have to wear a specific style of bra with it. Also, the sizing runs slightly big. I'm wearing a 1x but could've easily pulled off a Large for a more fitted look especially since there was slight bunching in the back. I wore this to work with a white blazer but was happy hour ready soon as I took it off. I could easily transition it to casual wear by adding some Converse kicks.
In case I haven't won you over yet on Gwynnie bee-they are hosting a contest where the lucky winner will win A Year of Gwynnie Bee (<–click on link) Make sure to enter!
Make sure to check back tomorrow where I'll style this dress and this Kimono.