This has been a week of sorts and boy am I happy it's Friday. Took out my new white pumps out for a spin today. I don't think I've owned a pair of white shoes since I was a kid and the tedious moments spent keeping my church shoes white with the help of some white shoe griffin nonetheless (I KNOW I'm not the only one out there who used white shoe griffin?!).
In the spirit of Casual Friday, I opted for jeans, which I never wear, but in a semi-boyfriend style. Threw on a white blazer and silver top with accessories and I was good to go. Makeup was basic with lashes, neutral eye and my trusty Ruby Woo (speaking of which, please tell me I wasn't the only one on an hour or so wait for that RiriWoo Yesterday? Never again)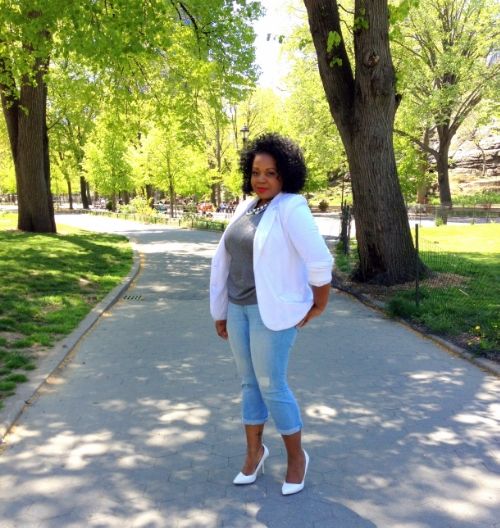 Special thanks to BklynMuse for the pics.
Deets
White Blazer…………….Vintage (thrifted)
Silver Mesh blouse…….GAP (thrifted)
Boyfriend Jeans…………Old Navy (thrifted)
Pearl and faux diamonds neckpiece…..H&M
White Pumps………………Zara
Happy Weekend loves!